Collections
Included here are some of the major collections of Kindai University.
In addition to collections covering specific fields, there are private collections built up by individuals. All of the collections contain literature and materials that are rare from an academic standpoint and that provide extremely valuable information.
Valfre Collection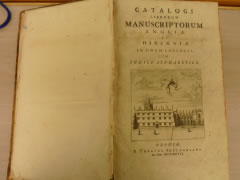 Dr. Luigi Valfre (1904– ?) was a linguist and translator born in Bra, Italy. During his distinguished career, he did translations from various foreign languages for almost all of Italy's major publishers.
This collection focuses on foreign-language dictionaries and language books that Valfre devoted his life to systematically accumulating. It contains many valuable and otherwise hard-to-find items.
Valfre Collection on Kindai OPAC
Kistner Collection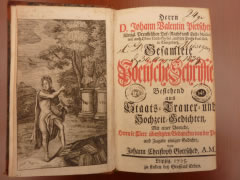 Erwin Kistner (1896–1978) was an antique book dealer in Nuremburg, Germany and a leading figure in the field of German antiquarian books around the time of the Second World War.
This is a collection of literary and philosophical works published in German-speaking countries between the 1700s and the early 1900s. Encompassing works by Lessing, Goethe, and Schiller, this is a virtual treasure-trove of literature in Classicism, Enlightenment, and Romanticism. The collection also includes a wide range of works considered rare even in Germany today; these include rare authors' works and popular literature.
In addition, a portion of this collection is available on microfiche as the "Kindai University Central Library's Kistner Collection of 18th and 19th Century German Literature."
Kistner Collection on Kindai OPAC
Coing Collection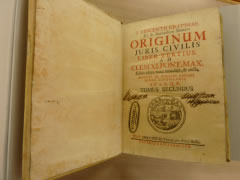 This was the private collection of Helmut Coing (1912–2000), a legal scholar born in Celle, Germany. Appointments he held during his lifetime include president of the Goethe University Frankfurt and director of the Max Planck Institute for European Legal History.
This large and systematically amassed collection of research literature and materials reflects Coing's multifaceted law-related activities. Covered are fields such as interpretation of private law, philosophy of law, legal history, foreign law, and comparative law. The collection allows readers to understand the changes in Europe's legal culture over the years up to the present by equating them with major concurrent academic achievements.
The collection is divided into six parts. Parts four to six contain many old editions of books on early modern legal history (16th and 17th centuries).
Coing Collection on Kindai OPAC
Shimamoto Collection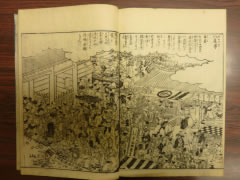 This collection was named after Tokuichi Shimamoto, a professor of the School of Business and Economics of Kinki University (now Kindai University). It centers on meisho zue, illustrated guides on places of interest published in the late Edo Period (late 18th century to early 19th century).
Illustrative works like this can be found in many libraries and are not all that rare. However, what makes this collection unique is that, in addition to illustrations of places of interest, it contains topographical descriptive literature of the Edo Period that makes it a comprehensive resource for such works.
The collection has more than 100 illustrations of places of interest and topographical descriptions. Of particular note are many works from the Kansei era (1789–1801) published under the initiative of writer Akisato Rito, a major contributor to the publishing of meisho zue.
Spencer Collection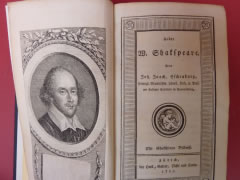 This was the private collection of Terence John Bew Spencer (1915–1978). Spencer worked at the University of London before his appointment as a professor at the University of Birmingham in 1958. From 1961 until his death, he was the director of the Shakespeare Institute.
This collection contains approximately 1,000 books on Shakespeare and 237 research paper offprints given to him by fellow researchers around the world. The books in the collection are works about Shakespeare published between 1801 and 1982 and mainly in the UK and the US. By topic, the largest category in this collection comprises general research on Shakespeare rather than on any specific Shakespeare play or theme. The next largest topic comprises discourses on Shakespeare's tragedies. The remainder of the collection is divided approximately evenly among works about poetic comedies, romances, Roman theater, collaboration theories, performance theory, stage theory, personality critiques, textual critiques, theory of play structure, theory of writing style and language, and psychological analyses and critiques.
Among the research paper offprints are 15 taken from the annual Shakespeare lectures at the British Academy, which were held between 1911 and 1973.
Available at a later date.
Collection of Old Maps of Japan Drawn in the West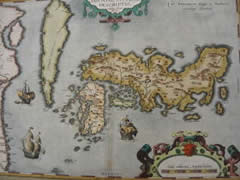 This is a systematically arranged collection of old maps of Japan that were copied and published by Western cartographers.
This extensive collection includes items from the era of speculative maps based on maps drawn by Claudius Ptolemy and Sebastian Münster; maps by the Portuguese cartographer Luis Teixeira and by Jesuits such as the Italian cartographer Martino Martini; and survey maps made between the mid-17th and 19th centuries. Browsing the documents chronologically shows how maps of Japan have become gradually more accurate over the years.
There are 23 maps made between 1522 and 1655, and 85 maps made between 1659 and 1825.
Old Maps of Japan and Asia Drawn in the West
History of East-West Negotiations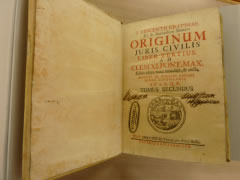 Here you will find 257 works related to Japan from the Blackburn collection, along with books purchased by the Kindai University Central Library in order to round out the collection.
Most of the books are related to Japan and were published by Westerners between the 16th century and the Meiji Period (1868–1912). Authors include Francis Xavier, Luis Fróis, Engelbert Kaempfer, Philipp Franz von Siebold, and Basil Hall Chamberlain.
This collection includes "Japanese Travelers in Sixteenth-Century Europe: A Dialogue Concerning the Mission of the Japanese Ambassadors to the Roman Curia," by Duarte de Sande, which is the oldest published work among the small number of books that describe the experiences of Japanese traveling to the West.
Available at a later date.
French Revolution Collection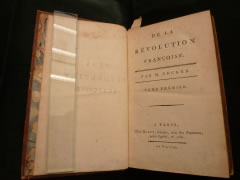 This is a collection of literature and materials published during the 1789–1799 French Revolution.
It contains books with general information on society, politics, and customs of the period, as well as pamphlets distributed during the years of the French Revolution.
The collection contains many hard-to-find and valuable items.
French Revolution Collection on Kindai OPAC
Prussia Collection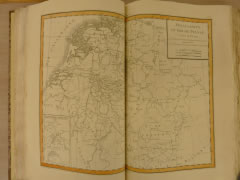 This is a collection of literature and materials covering numerous aspects of Prussia's politics, society, culture, and economy.
The collection contains significant amounts of library materials invaluable to research on Prussia. These include books by Frederick the Great and first-hand observations of the time; materials on history and military affairs such as the Napoleonic Wars, the Austro-Prussian War, and the Revolutions of 1848; and literature on financial measures, the judiciary system, and science.
Prussia Collection on Kindai OPAC
Some of the linked materials or pages are only in Japanese.
You need Adobe Reader to view PDF files.
Visit the Adobe Systems website for a free download of Adobe Reader.